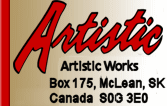 ARTISTIC WORK STATION FRAMES are made of 1"x1" square tubing and 1/4x1" flat iron, pre-drilled, so you can simply bolt on your peg board, 2x6 planks and 1x6 boards.

You receive a pair of frames, 8 - 1/4"x1 1/2" Carriage Bolts (for the peg board) and 24 screws (for top planks and the shelf boards). Frames are painted with black primer.

In addition you will require: 1 - 24"x48" x1/4" peg board, 3 - 2x6x60" planks and 6 - 1x6x48" boards. You must notch the corners of two of the shelf boards, before installing them. After you have assembled your work station you must paint or stain the wood and paint the frames with an enamel paint.

FOR SAFETY: you must either bolt your work station to the floor or to a wall (bolts not supplied)

For extra stability, you may add a 34"x48"x3/8" plywood to the back of the shelves, 6 - 1/4"x1 1/2" carriage bolts with nuts are also required. You will not need this backing board if you are bolting the frames to a wall. (NOTE: You can make your work station any length)


Stock No.
WS101

$40.50 / set

Peg Board, Planks, Shelf Boards,
Freight & Taxes extra.