MENU PAGE
---
Railings For Conventional Steps
---
Railings For Side Steps
Click For Photos:

Side Step - basic railings
Rail #1 - 4R60-36 with CP50-36 bolted on & P1 designs added



---
Railings For Crossover Steps
---
Half Columns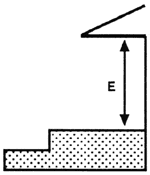 ARTISTIC HALF COLUMNS fit between the railing and eave (See Photo) and have a telescopic top. You must remove the top of the column and cut it to the proper length. There are 12 different lengths of columns. Step landing to eave measurement ("E" in picture) may be between 84 and 150 inches. These columns are 14 inches wide and are built to take one ARTISTIC DESIGN.
All half columns are the same price.
TO ORDER a half column give total measurement from step landing to eave.
$85.00 Each

Design, Freight & Taxes extra.
---

Designs

ARTISTIC has 6 bolt on designs to choose from. These designs are numbered P1 to P9. Railings with landings 12 to 24" require one design (EG: 3R12-36). Railings with landings 30 to 72" require two designs (EG: 6R72-36). Cross rails and half columns require one design each.



$19.00 each
P1

$29.00 each
P3

$24.00 each
P4

$25.00 each
P7

$32.00 each
P8

$32.00 each
P9
Freight & Taxes extra.
---
Installation Kit

Enlarge Photo
Save time looking for these items required to complete your installation. Enlarge picture to see breakdown of items.

Stock No.: CRKIT-00 ................ $19.00